Why we're running it: To find out if Ford's all-purpose hatchback remains the driver's car of choice in the family car class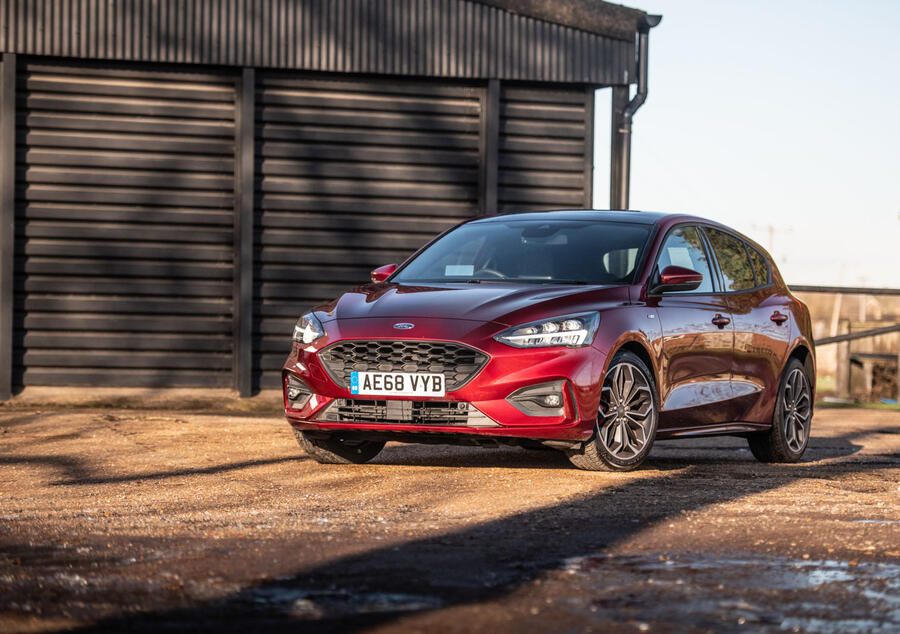 Life with a Ford Focus: Month 3
Follow the trail, if you really have to - 5th June 2019
An unusual feature I've found in the Focus: it can drop breadcrumbs. No, it's not some sub-007-level gadget but a feature in Ford's nav system that leaves blue dots on the screen showing where you've come from should, presumably, you need to retrace your steps. Interesting, but I've yet to find many situations in which it has been useful.
Mileage: 2314
Life with a Ford Focus: Month 2
Fourth-gen Focus has started revealing its Tardis-like qualities - 22nd May 2019
The housing development I live on was built in the mid-1960s, something you can tell by the design of the houses – and the size of the on-street parking bays. I've been acutely aware of the latter every time I've gone to reverse park our Ford Focus.
The row of parking bays closest to my house has five spaces, designed to easily accommodate the average family car. Except in the 1960s, Ford's family car wasn't a Focus, or even an Escort: it was a Ford Anglia.
There are also a lot more cars on the road than there were in the '60s, something you can tell from the amount of vehicles parallel parked on the other side of my tight cul-de-sac, often greatly reducing manoeuvring space when I'm trying to reverse a Focus into a space designed to house an Anglia.
That the new Focus is bigger than an Anglia won't be a surprise. Cars tend to get bigger from generation to generation, a trend that applies far beyond Ford. So I was expecting this fourth-generation Focus to be bigger than its predecessor. But what really surprised is how much more cavernous than the third-gen version it feels when you're sat inside it – something noticed by several Autocar team members.
Which is odd because, in overall terms, the car's not really that much bigger. Ford lists the new Focus as being 4378mm long, only 20mm up on the old model. And yet inside it feels like a lot more, probably because the wheelbase has been substantially stretched, by 53mm to 2701mm, which has been used to add plenty of interior space.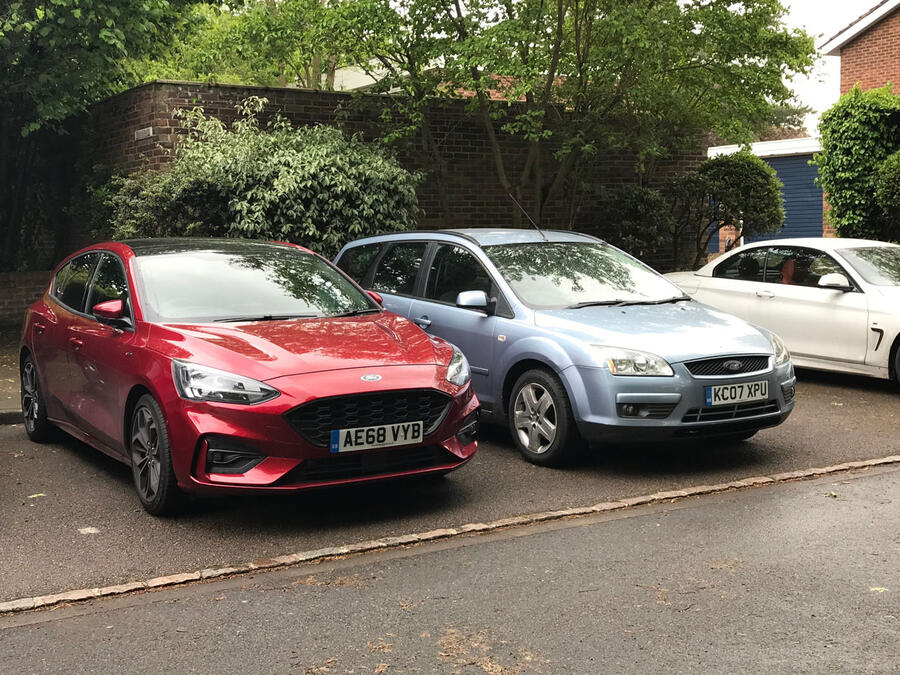 Ford has used that space well: there's plenty of leg room in the back, and enough storage cubbies and compartments that it can take some time to find things I've hidden away. The addition of the panoramic roof (a £995 option) serves to make the Focus feel even more expansive.
Thing is, all that extra interior space can play tricks with your mind, making you think the Focus is bigger than it really is. And that makes the task of reversing into a 1960s parking bay feel even more challenging than it actually is. There are some cars I haven't even bothered trying to fit in the parking bays, instead opting to park a little further from my front door where there are bigger spaces. But the Focus isn't in fact that big – it just feels like it is.
While rear visibility is decent out of the Focus, with limited room to manoeuvre the rear parking camera and sensors fitted have proven useful – not so much to guide me into spaces, but to help prove to my brain that the Focus's dimensions aren't quite what they seem.
And with my brain in gear, I've been able to enjoy the substantial interior space the new Focus offers. And when my focus is on looking forward, such as when I've found myself on a nicely flowing country road, worries that the car is excessively wide are soon forgotten. For when it comes to handling, the Focus still achieves that rare feat: feeling as poised, direct and responsive as smaller cars.
Love it:
Cruising calm Sure, it's not as peaceful as an electric car, but the quiet 1.5-litre three-pot makes for blissfully soothing cruising.
Loathe it:
noisy warnings Collision detection is a very useful feature, but occasionally the Focus one goes off for no real reason – AND IT'S VERY LOUD!
Mileage: 3011
Function over form for the infotainment - 8th may 2019
Seems odd in this age that the infotainment screen sticks up from the top, as if worked in as an afterthought. I've always thought they look smarter set into the dash, such as in the VW Golf. But using the Focus on a regular basis, I'm sold: it means the screen is perfectly in my eye-line, and easier to reach. A win for function over form, I reckon.
Mileage: 2714
Life with a Ford Focus: Month 1
Door protection comes at a cost - 24th April 2019
Our Focus has been earning praise from colleagues – although several have reported an odd rattle when opening or closing the doors. We tracked it down to the pop-out door edge protectors, part of the £550 Convenience Pack. A shame that a (very useful) feature designed to keep your doors' premium sheen sounds a little, well, cheap.
Mileage: 2413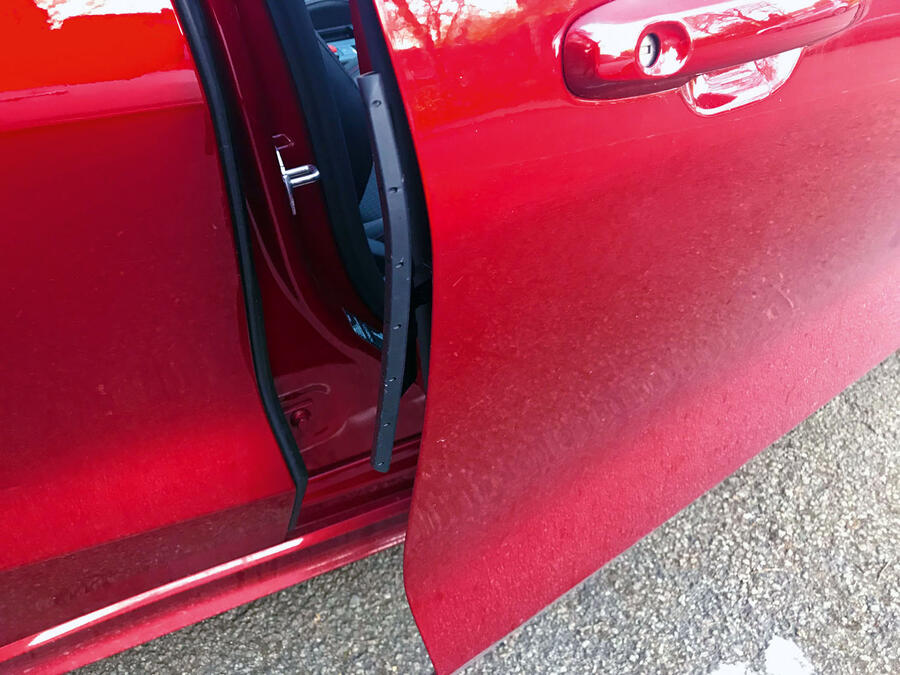 Welcoming the Focus to the fleet - 17th April 2018
Since it was first launched 20 years ago, the Ford Focus has been entrenched as a core part of British motoring. On any motorway, the Focus is as ubiquitous a sight as road signs and traffic cones.
That's because, throughout three generations, the Focus has always been a true all-rounder: an affordable, refined and thoroughly decent machine that can work as family transport, company car, motorway cruiser and even, in certain forms, hot hatch.
That versatility is why the car's name has always seemed something of a misnomer. In an era when models are increasingly laser-targeted to ever-narrowing market niches, the Ford Focus never had such a singular, well, focus. It's a laudable and proudly mainstream car, with the widest possible target audience – although the Ford Lack of Focus doesn't sound so good.
That broad approach applies with the new fourth-generation Focus, launched late last year. And, in a bid to reach a huge number of market segments, the Focus is available in a head-scratchingly wide array of variants. There's the 'standard' hatch, an estate, the upmarket Vignale edition and the SUV-inspired high-riding Active version, all of which are available in a number of trims with different bodywork style. Oh, and there's a hot ST model on the way, which is likely to be followed eventually by a hotter RS.
Add in multiple different suspension and engine options (even before a mild hybrid arrives next year), and a Focus buyer has plenty of decisions to make. And that's before you start ticking boxes for the myriad option packs and extras.
That incredible breadth is reflected in differing abilities across varying specs. So when it came to putting the Focus through Autocar's exacting road test, our testers spent considerable time ensuring they secured the spec most likely to appeal to Autocar readers, the most dynamically capable version on offer.
They settled on the ST-Line X trim, running on 18in alloy wheels, powered by the 180bhp 1.5-litre three-pot Ecoboost engine through a six-speed manual 'box, riding on optional 'continuously controlled' adaptive dampers. Sounds good, right? Our testers thought so, awarding it a class-leading 4.5 stars.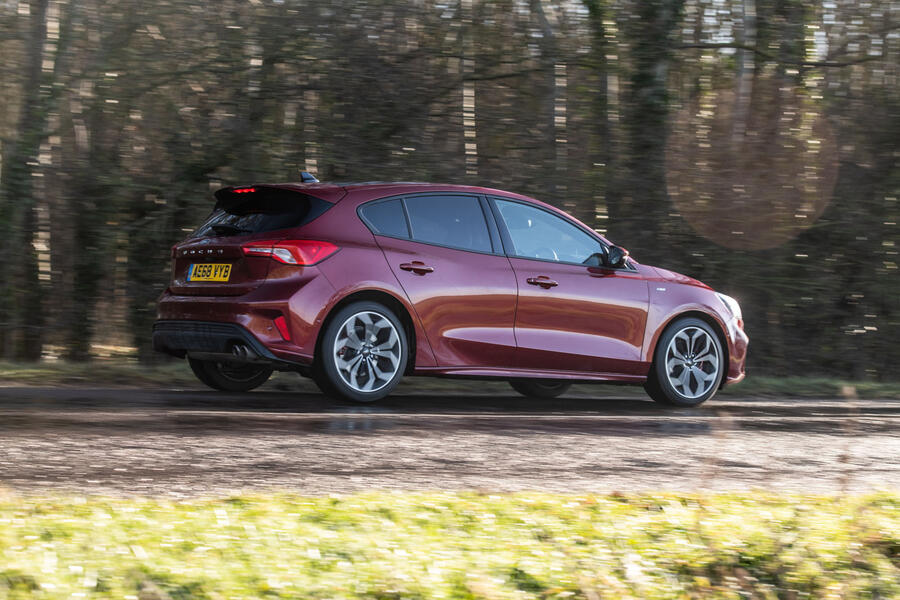 So when considering a car to add to our long-term fleet, rather than battle through the configurator and spec sheets, we took the easy option. We asked for a car just like the one our road testers specced. Ford took that a step further: for the next few months or so, I'll be driving around in AE68 VYB, the exact car we road tested.
It's worth noting that quite a few option boxes were ticked in the process of speccing that car. Among the extras added on are a panoramic sunroof, LED headlights, heated steering wheel, head-up display, wireless charging pad and plenty of supplementary safety kit. All additions that will doubtless make my life more comfortable in the coming months, but they do raise the price of our car from £25,650 to £31,145.
That's stretching it a bit for a mass-market family car, so I'll be pondering hard which of those extras, if any, are actually worth the cash.
It's those sorts of questions we'll be out to answer. We know the Focus is good to drive – great, even – but will it still shine with the familiarity that comes after thousands of miles? The early signs are positive. While it's an all-new design on an all-new platform, the fourth-generation model still has that familiar Focus styling – but it's definitely sharper and fresher, especially in ST-Line trim. I've noticed it drawing the odd admiring glance, which isn't something you'd expect from a Focus.
The interior doesn't quite live up to the bodywork. There's nothing really wrong with it, but it doesn't feel special, even taking into account the faux carbonfibre and other ST-Line flourishes. It feels like the mass-market car it is, lacking the sheen of, say, a Volkswagen Golf.
That said, some of that relative lack of visual appeal is because the Focus retains a good number of physical buttons and switches, and I'm happy to forsake a bit of sheen for the ease of use and functionality they've offered so far – especially since Ford's Sync infotainment isn't particularly special.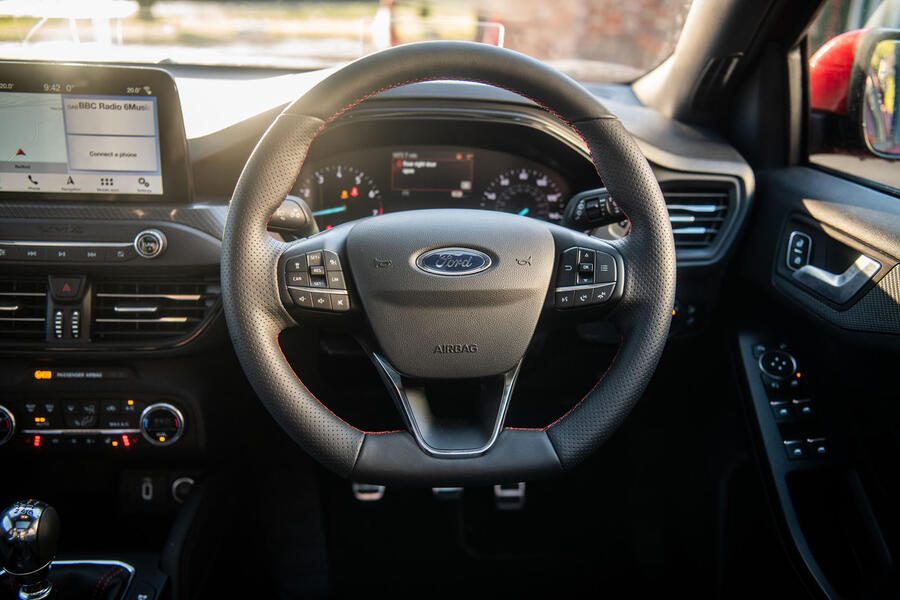 While the Focus may look familiar, one major difference is how big it feels inside. The switch to Ford's new C2 platform has allowed the wheelbase to be extended by 52mm, which Ford claims allows for an extra 40mm of rear leg room. I've mostly been sitting up front, so haven't put that fully to the test yet, but expect us to start cramming family, friends, flatpacks and other assorted oddments inside soon.
We'll be loading up the Focus for journeys long and short, and on all types of road. Basically, we're intending to treat our Focus the way thousands of owners have theirs over the past 20 years – which is to be used for pretty much everything.
Second Opinion
Knew I'd love the Focus and I did. That 1.5-litre Ecoboost powertrain is so far ahead of where affordable cars used to be, it's ridiculous – smooth, strong, willing. And the gearbox stirs my interest in pure manuals again. Only drawback is this Focus feels unnecessarily big. Time to slim?
Steve Cropley
Ford Focus ST-Line X specification
Specs: Price New £25,650 Price as tested £31,145 Options Ruby red colour £800, blind-spot monitor £400, head-up display £400, keyless entry £250, wireless charging pad £100, LED headlights £750, heated steering wheel £150, continuously controlled damping £650, Convenience Pack (rear-view camera, active park assist) £500, Driver Assistance Pack (traffic sign recognition, auto high beam, adaptive cruise control) £500, panoramic roof £995
Test Data: Engine 1498cc, 3-cylinder turbocharged petrol Power 180bhp at 6000rpm Torque 177lb ft at 1600rpm Kerb weight 1369kg Top speed 137mph 0-62mph 8.3sec Fuel economy 51.0mpg CO2 127g/km Faults None Expenses None